Meet Yahaira Lopez, the woman leading current protests at "Mass and Cass"
Though now living in the suburbs, Lopez says she's a "city girl" through and through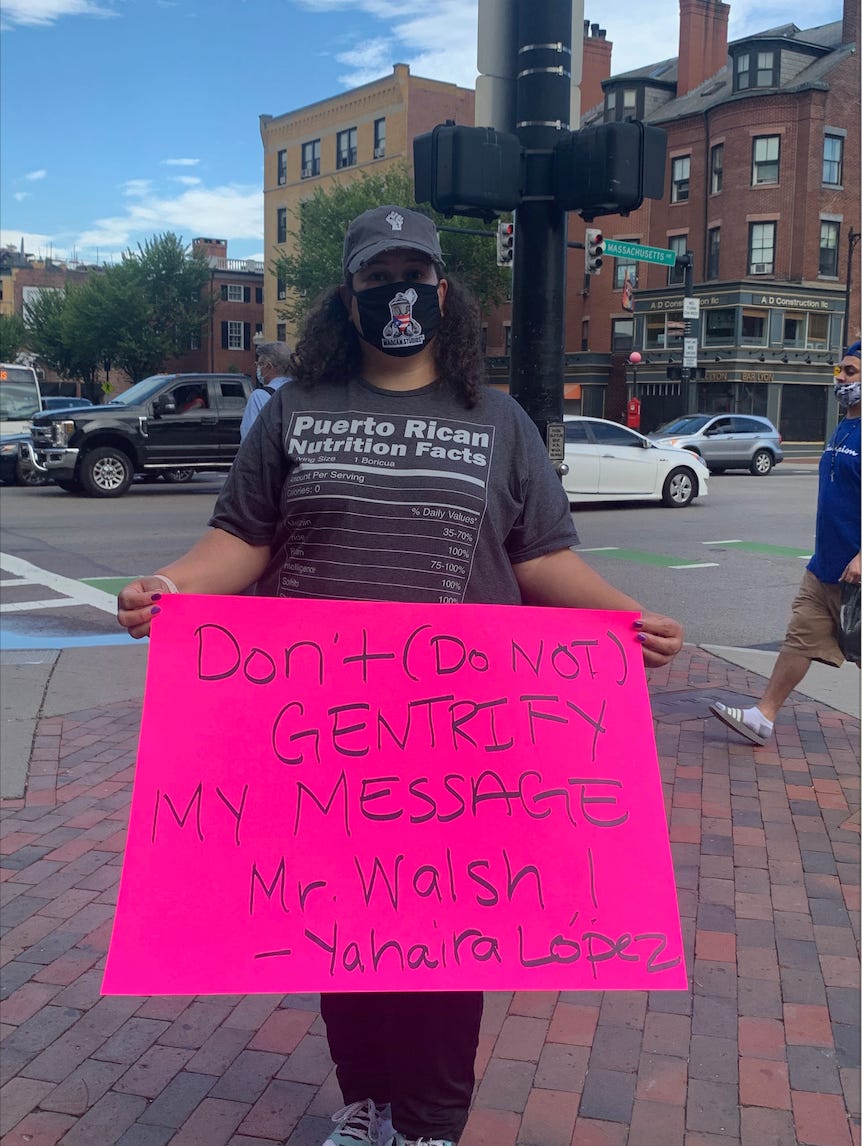 Yahaira Lopez stands with a sign at a recent protest. (Photo via Yahaira Lopez)
The woman leading a group of residents protesting living conditions near the "Mass and Cass" area hails not from the South End, Roxbury, or anywhere else in Boston.
Amid a media storm surrounding her protests, Yahaira Lopez is the well connected face of the South End-Roxbury Community Partnership. Yet, every night, indeed, she goes home to the small city of Randolph. 
Still, as her personal platform grows, she says she maintains her grassroots, resident-focused movement's integrity, serving as an intersectional leader of intertwined reckonings on race, wealth, and addiction.
"This is grassroots," she says. "All day every day."
Leading the protests
While Lopez lives out of town, she grew up in the area. She went to school in Boston. She later worked in the city.
And her mother still lives on the border of the South End and Roxbury, also known as Methadone Mile, where people experiencing homelessness and addiction often gather to access services. 
Late last month, Lopez posted photos on her Facebook page of used needles and human feces on her mom's property. 
Those posts sparked outrage and eventually prompted in-person protests that Lopez has led for two straight weeks. 
"It reactivated the advocacy that many individuals both on the Roxbury and the South End side have been working on for years," she says of the posts.
In turn, these twin protests have attracted media attention and put a spotlight on this portion of Boston that has long struggled as a manifestation of state and local shortfalls in addiction, recovery, and homelessness policy. 
Within that spotlight, in quotes to the media, or chants through bullhorns, it's often been Lopez' voice that has carried the furthest. 
She's spoken with advocates and experts at the Boston Health Care for the Homeless Program. She's gone back and forth with elected city council members and state representatives. Earlier this week, she got a one-on-one call with Boston Mayor Marty Walsh.
"We want a seat at the table," she says, referencing decision making power that she feels has been stripped from communities like the South End and Roxbury.
In the event that the city does open up such a seat, it's likely that Lopez would be at least one of the people taking it, bringing with her a unique perspective on politics and Boston. 
A parental politicization
Lopez got into politics as an adult, after she had kids.
Her twins, born prematurely, needed early intervention therapy and, eventually, special education after doctors diagnosed one with autism, and the other with ADHD. 
Lopez got into the weeds, advocating for her children. 
"I learned how the world literally revolved around politics whether we want to admit it or not," she said.
Lopez ran for a seat on the Randolph School Committee in 2019, and, amid her losing campaign, became further outraged over racial injustice.
"Although I knew systemic racism was raw and real, it's triggered me emotionally on a different level," she said. "I'm seeing it more directly in my community now."
Lopez said she got hate comments via Facebook and found herself harassed by people online telling her she was a bigot for bringing up the topic of race in Randolph. 
She said she saw some of her lawn signs stolen. 
In other cases, she found her signs dropped on private property in acts she interpreted as attempts to get her fined under election laws. 
"I've been very vocal in my community about racial injustice and the inequities," she said. "[But] nobody wants to have those conversations." 
The present day movement
Back in the present, Lopez is now commuting weekly to the South End hoping to be a voice for people she says have been forgotten in the struggle to address addiction, homelessness and poverty on the streets around them. 
Lopez has faced cooccurring demonstrations from harm reduction advocates who say she and her group are ganging up with one dimensional attacks on vulnerable homeless populations
But, Lopez insists she's simply calling for comfort. She says she's speaking out hoping the residents of the South End and Roxbury can coexist peacefully and safely while tackling the challenges they face with support from elected officials. 
Her political style is uniquely molded by a childhood in the city and an adult life in the suburbs. So, she says, she's shouting all this with vigor.  
"I'm a big grassroots person," Lopez said, "...I'm very bold and unapologetic in my form of advocacy. I want to hold elected officials accountable."
***
Follow continuing coverage of protests at Mass and Cass by subscribing to the Substantive Newsletter…