UPDATED: BPD arrests 7, sends 25 to treatment in coordinated Mass and Cass drug operation
Boston police detained/arrested more than 32 people on drug charges over just five days this month according to a press release, Monday. Reactions are expected to be mixed.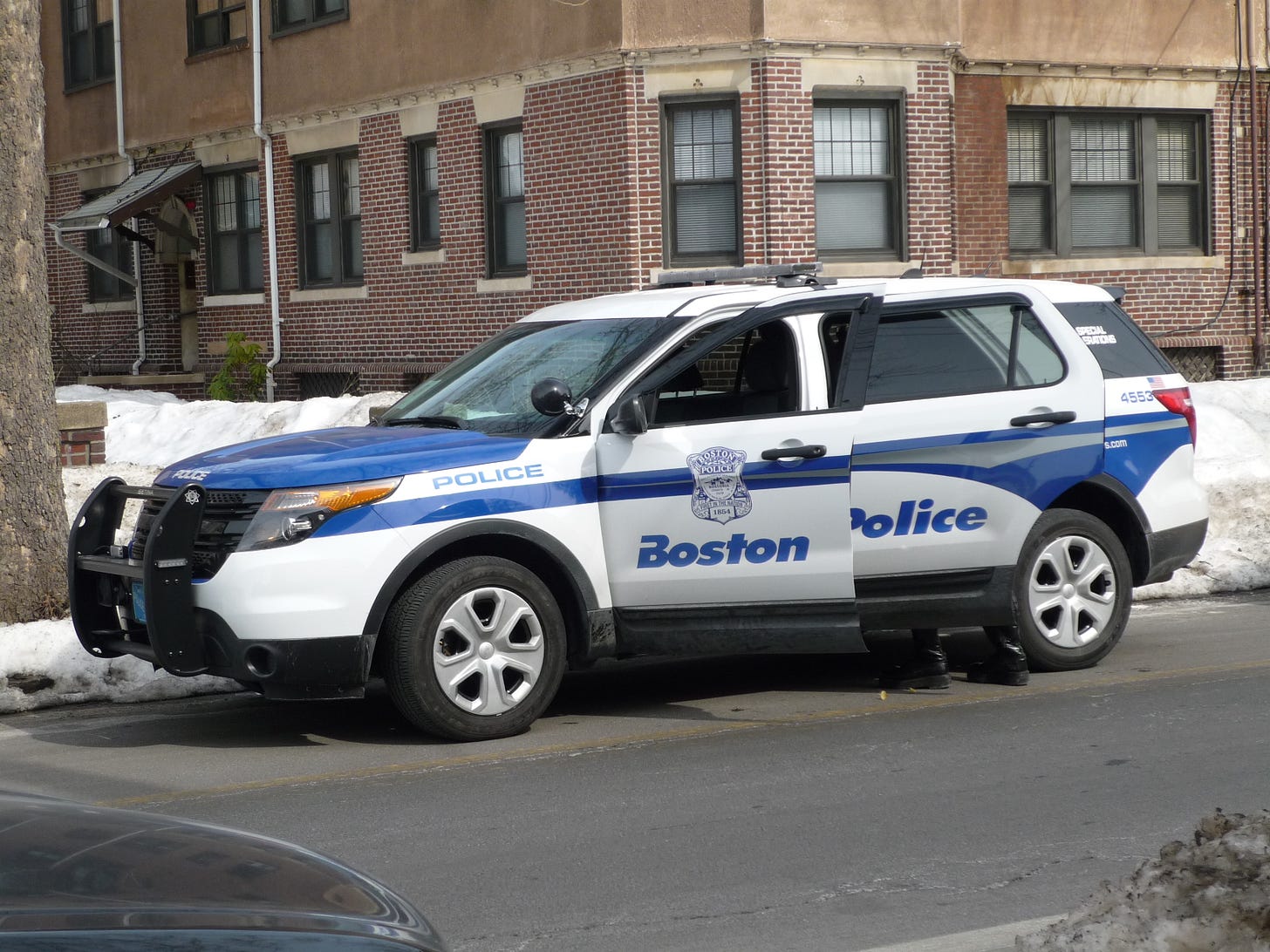 A Boston Police cruiser sits parked. (Photo by Jason Lawrence, used under Creative Commons License)
Oct. 5, 8:50pm - UPDATED WITH COMMENT FROM DOMINGOS DaROSA
Boston Police arrested seven people and obtained warrants to arrest 10 more on drug distribution charges, this weekend, in a coordinated attempt to disrupt the drug trade in the Mass and Cass area of the South End.
Described in a press release, Monday, the operation comes as city officials face increased calls from residents to better tackle addiction in this effective epicenter of Boston's drug crisis.
"As part of the Boston Police Department's concerted effort to remove illegal drugs from our communities, the...South End Drug Control Unit assisted by members of the Youth Violence Strike Force have made several arrests and recovered a significant amount of drugs in the Massachusetts Avenue and Melnea Cass Boulevard area," the Boston Police said in that release.
Arrests began, according to the BPD, on October 1 when police entered the Mass and Cass area with at least four warrants in hand. Along the way, they arrested a fifth man after they "observed him engaging in multiple hand to hand drug transactions."
October 2 saw a sixth arrest before, then, on October 5, police made their seventh and final arrest to date.
Booking suspects, police filed 15 total charges all relating to drug possession and, in some cases, distribution.
Within that, police say they recovered fentanyl, crack cocaine, marijuana and gabapentin among other drugs.
Police have charged just one person with intent to distribute Class A substances, however. The remaining six suspects, while, in some cases facing Class A possession charges, only face distribution allegations for Class B drugs.
That fact is a notable one as the list of Class B drugs excludes heroin, which many individuals pinpoint as the controlled substance most common in the Mass and Cass area.
These arrests suggest that the transactions police most clearly documented in their investigation included different drugs, such as cocaine, ecstasy or methamphetamine, which are included in the Class B ranking.
"[This is] a small step in dealing with the opioid crisis," community organizer Domingos DaRosa said of all this, shortly after this news broke. "— clear the area of a dealer so users can get real treatment,"
He elaborated, saying, "[There's] no point of having treatment centers where dealers can pray on users."
As this operation did seem to focus on people allegedly distributing drugs, it still has not entirely spared people simply using substances.
Indeed, in addition to the seven main arrests from this recent action, police also say they diverted 25 people to treatment. Upon release from treatment, those individuals will have to head to court to face drug possession charges.
Should those charges evolve into convictions, they'll become black marks on individuals' records that recovery experts all loudly say can trap people in cycles of criminality, desperation and relapse.
We continue to reach out to prominent voices in this conversation for comment. We will continue to update this article accordingly…
Subscribe to Substantive for continued breaking news coverage, alongside longform reporting relating to the Boston addiction community…